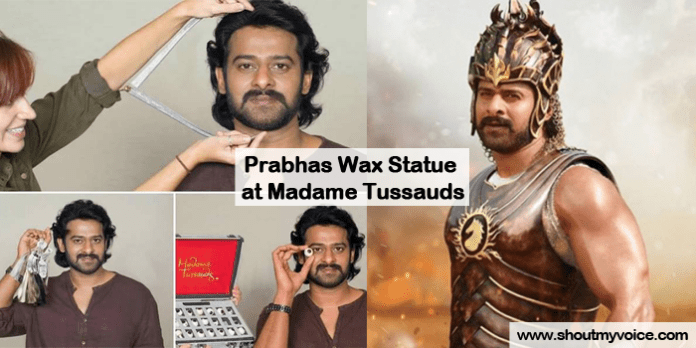 Baahubali- The conclusion staring Prabhas is breaking all the records and is going towards becoming India's biggest blockbuster of the year. Baahubali 2 will definitely create a big history at the box office because of its unbeatable performance and the outstanding response from the fans. Since its release, it is creating benchmark at the box office and within the period of five days has crossed Rupees five hundred crore mark. It is hard to believe that Prabhas fan following is beating Rajinikanth and Kamal Haasan. And Prabhas wax statue is going have at Madame Tussauds.
Prabhas wax statue was unveiled at Bangkok Museum; this statue depicts his role Amarendra Baahubali from Rajamouli's epic entertainment. Prabhas has given five years of his life to Baahubali and by receiving such an exceptional response from the audience it is like he has got paid for what he worked for. During the making of Baahubali, he stopped signing films and gave his full dedication to the movie, he didn't back off and ran out of money. It is like dream come true for him and for his fans as not only in India but people across the world are talking about his role and the movie. He has become one of the most famous actors whose movie has broken all the records of the cinema industries across the world.
Prabhas has created milestones and become the first south Indian actor who has got a waxed statue at Madame Tussauds, even though the superstars Mohanlal, Kamal Haasan and Rajnikanth have never got a waxed statue. Baahubali 2 is become one of the few films to be showcased outside the country due to the demand of the abroad fans.
Prabhas wax statue will be done soon and here is what he has has said" I am really happy to have been selected by Madame Tussauds and I think this was only possible because of fans. I am grateful for their unconditional love and support. I am also thankful to my guru, SS Rajamouli for the opportunity to work on this fantastic project baahubali".
Baahubali 2 is breaking  all the records and it is the sequel of the movie Baahubali which was released in 2015 by Karan Johar's Dharma Productions.