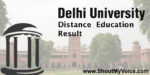 Find Delhi University Distance Education Result
Students who are studying in school of open learning in Delhi University finds very difficult to see the results. In this article we will provide you simple and easy steps to let you know the results of various undergraduate and postgraduate courses you want very easily and conveniently by following these instructions:
First the student has to visit the website www.sol.du.ac.in.
In this website you can see the red colour tab, in which you can see various sections like Home, about us, academics, students, others, contact us and alumni.
Now from this tab click on the students section.
Now from this student section you will find a menu, from this select the examination section.
In the Examination section you will find many options like UG examination, PG examination, exam hall ticket, online examination, exam instructions and results.
From these options select the result option.
Now you will see three options in the result section – UG results, PG results and exam archive.
In the first option of UG results, here you can see different UG courses- B.Com, BA, BA (H) PS, BA (H) English and B.Com (H), you just have to select the part1, part2 and part3 for first year, second year and third year respectively.
In the second option of PG results, here you have two options first is PG exam results and the second is PG Admission results.
First option of PG results, you will see the different PG courses- MA Hindi, MA History, MA (PS), MA Sanskrit and M.com, you just have to select the particular semester for the results.
In the second option of PG results, you will see the PG admission results.
In the third option of the result section, you will see the exam results archive; here you will find the whole list of results in pdf format.
Also the list is according to the annual results yearly and also the results of entrance exam test are mentioned.
Also in the Delhi University Distance Education Result you will have the list of the entire undergraduate and post graduate courses yearly in a single page. You don't have to select any more tabs there which may confuse you, here you can easily click on the different courses and there links which will redirect you to the relevant pages of your search. Not only the courses results , here you will find the entrance exam results and the admission exam results in on go and the last modified or updated date by the university is also mentioned, so you can get the updated results only.
For more information visit www.sol.du.ac.in which we have already mentioned, here you will get the entire information for the same. Please don't forget to share it with your friends and surely we will love to listen from you. Feel free to ask any query or problem you are facing regarding the same.