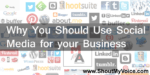 We Should Use Social Media for Our Business
Social media is a huge platform to connect to one other nowadays, as the technology is increasing day by day; it is very easy for people to communicate with each other even with the long distance gap, also in the busy schedule we are unable to meet people physically, so we communicate with them through these social media. Not only communication, as we get updated with the world and one can also find that what his/her competitors are doing. Thus there are many reasons for using social media for any business.
There are many more examples which shows how important is social media for different type of businesses. For example a small business want to reach to a wide audience, through it's blogs sharing and its brand promotion with social media, people will get to know what the firm is providing and also the customer reach will increase with minimum resources.
Through social media you can easily judge your customers or audience, for example through Facebook insights you can easily analyse which type of audience in age or gender like your posts more and also which type of subjects they like and want to know. Through this you can easily reach them with their interests and whenever you post their interest they will definitely want to know about your product or brand.
In social media sites like Facebook and Twitter you can easily target the location through the demographic feature provided, you can also select languages of your choice and also to specific gender which will filter your reach and makes it easy for you to target audience of your business.
Social media also helps you to increase your new customers; let say a restaurant owner can easily target its nearby customers by providing to special discounts to them. After some time they will get habitual to the restaurants food, then one can also give discount whenever they came with their new friends first time. Thus this will give a huge increase in the customers.
Through social media you can easily knows the customer feedback, as which product is they like more and which product is being neglected by them. One can also finds the customer needs or services they want to be fulfilled by the company. The very best example is when you are launching a new product, then you can simultaneously get the feedback from your previous customers and what are their reactions, do they want some modification or they are satisfied with the launched product.
Through the social media monitoring you can easily rank yourself among the competitors and also analyse and observe what extra efforts are your competitors are doing, how you can improve yourself and what are the points you are lacking in getting the particular reach you want.
Last but not the least through social media you can suddenly increase your website traffic and search ranking. All the traffic in your social media can be redirected to your website.