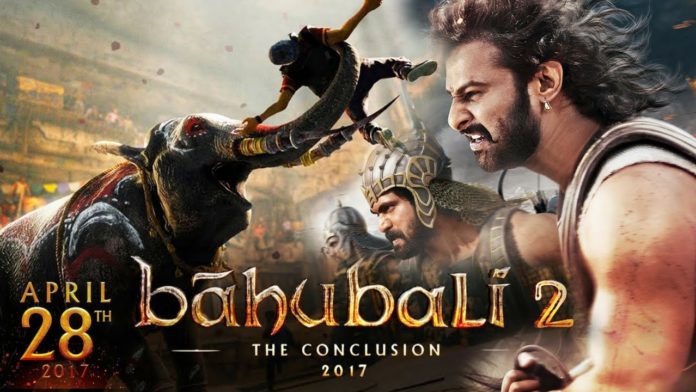 Would you purchase a ticket to watch a trailer of 2.25 minute in a theatre?
The answer will be 'NO', but it can be 'Yes' if it's for the SS Rajamouli's Baahubali 2: The Conclusion.
Some Amazing Facts That You Need To Know About Baahubali 2: The Conclusion:
As the trailer of Baahubali 2 launched on March 16, 2017, a multiplex in Mangalore charged Rs 80 a pop usher in devotees of Rajamouli's period Fantasy.
The fans have been waiting for Baahubali 2 ever since they left the cinemas in 2015 having watched Baahubali: The Beginning.
It will be the first Indian film to be released in IMAX format overseas.
On release of sequel's Hindi trailer launch in March, Karan Johar said "One can conceptualise a film like Baahubali but no one has done it so far."
Baahubali: The Beginning went on to become the first hindi movie to reach Rs 300 Crore box office mark all over the world, a record that the sequel aims to break.
The combined budget of both the movies is Rs 450 crore and the sequel has reportedly already collected Rs 500 Crore by selling Satellite and the theatrical rights.
Cinemas in Andhra Pradesh and Kerala will be organizing 6 am shows, which is a privilege usually served for Rajinikanth films.
Thank God It's Friday! Baahubali 2 – Releasing Friday, April 28,2017.
The movie will be released in Telugu, Hindi, Tamil and Malayalam. So Finally, on Friday Baahubali 2 will provide the answer to the question: Aakhir Kattappa ne Baahubali ko Maara Kyun?
The movie has no rival in sight. Outside India too, the movie has emerged as the big ticket release of the week.
So Enjoy the movie and have fun! Please add your comments if you like it. Stay Connected With Us for More Interesting Updates!