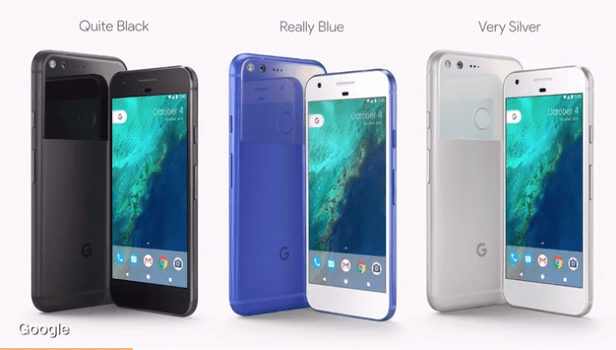 Google Pixel and Pixel XL are built on five pillars – Google Assistant, Photography, Storage, Communications and Virtual reality
The biggest announcement from the 04-Oct-2016 event was the launch of the new Google Pixel and Pixel XL Smartphones. They're the first Google handsets to ditch the "Nexus" branding, and they were designed by Google. They're also the first phones with Google Assistant built in.
Google has now confirmed that Pixel and Pixel XL smartphones start at Rs 57,000 in India. The smartphone will be available for prebooking in India starting from October 13. Google Pixel with 32GB and 128 storage options will be available at Rs 57,000 and Rs 66,000 respectively.
While larger Pixel XL will set prospective buyers by Rs 67,000 and Rs 76,000 for 32GB and 128GB variants respectively.
Google Pixel specification
Google Pixel have 5-inch AMOLED display with a 1,080 x 1,920-pixel resolution, plus 4GB of RAM and a 2,770mAh battery. The phone also runs on Qualcomm's new Snapdragon 821 chip, which includes a Kryo CPU (10% faster than 820), an Adreno 530 GPU & the Snapdragon X12 LTE modem.
Meanwhile, Google Pixel XL boasts a larger 5.5-inch screen with a 1440 x 2560-pixel resolution and a larger 3450Ah battery.
It also runs on Qualcomm's Snapdragon 821 chip and will charge up to 7 hours of its battery life in just 15 minutes – apparently.
Both handsets ship in 32GB or 128GB options and feature an aluminum unibody and polished glass design. You can grab them in three different color options – Quite Black, Very Silver and Really Blue – with pre-orders starting today.
"People have strong emotional connections to the products we rely on every day," said Rick Osterloh, Head of Hardware Group. "Building hardware and software together lets us take full advantage of capabilities like the Google Assistant.
We're building hardware with the Google Assistant at its core, so you can get things done, without worrying about the underlying technology. Hardware isn't a new area for Google, but now we're taking steps to showcase the very best of Google."
Google Pixel Design
Google Pixel was designed inside out to be simple and smart," said Brian Rakowski, from the Pixel product team. "Pixel is the first phone with the Google Assistant built in."
Rakowski talked up the Pixel's camera, lauding its 12.3-megapixel primary shooter, which features a f/2.0 aperture, HDR+ technology, and a pixel size of 1.55 microns. According to Google, DxOMark has already given the Pixel's camera a score of 89/100, which trumps both the iPhone 7 (86) and last year's Nexus 6P (84). He also added: "Our camera has a shorter capture time than any smartphone camera we've tested."
Both handsets come equipped with Google's new Android 7.0 Nougat software, as well as the expected fingerprint scanner and USB-C port. Other new features include background downloading and installing software updates, and 24/7 live customer support (over phone or chat) built into the phone – with a handy screen share option, too.
India Pre-bookings from Oct 13 at Rs 57,000 onwards.
Please feel free to comment your views and suggestions