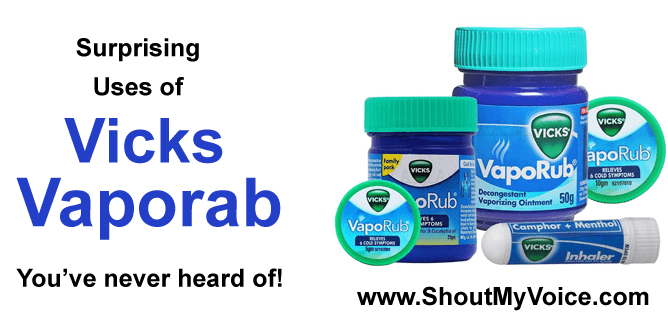 We have used Vicks Vaporub so many times since we were kids during cold and cough and especially when our nose chock. It is basically used on the chest, back and throat for testing nasal congestion and coughs. It is considered as the most common and trusted home remedies to recover from severe cold and cough; our mothers usually give warm water to drink and then rub Vicks to our chest so as to have a warm sleep. But you wouldn't believe there are much more surprising uses of vicks vaporub you've never heard of and they are as follows:
Remove Toenail Fungus: For having a fungus free and clean toenail, you can use vicks vaporub as an effective home remedy. The substance found in vicks cures the growth of the fungus and it is because of the antiseptic, antimicrobial and antibacterial properties it has. According to a study in 2011 vicks vaporub is considered to have a positive clinical effect in the treatment of onychomycosis. Apply vicks vaporub on the infected toenail and put on your socks, use it daily 2-3 times and especially in the night. You will definitely see the results and the one thing you should note that your toenail should be dry before applying the vicks. Besides this there are other interesting uses of vicks vaporub which are listed below.
Remove Acne: Yes it is true the vicks that you use in your home for curing a cold is also used to clear acne and in fact is the easiest and convenient option for removing acne. The substance methanol present in it provides a quick relief from swelling and pain, not only this it will be very helpful in clearing up the acne stains within few days. Apply vicks on the infected area and leave it for 30 to 35 minutes and then rinse it off with lukewarm water, for better results use it 3-4 times daily.
Cure Cracked Heels: To have beautiful, soft and healthy heels use vicks as it is the right choice to free from unwanted cracks. Due to its methanol, camphor and turpentine oil content, it helps to heal the cracks easily and provides moisture which will make your heels much softer. Use it before going to bed, firstly soak your feet in warm water for at least 10 to 15 minutes then scrub the cracked area with a pumice stone for couple of minutes fro removing the dead skin cells and now apply vicks on your feet and heels, massage gently and put on your socks and next morning wash it with warm water.
Repels Insects: Vicks Vaporub is the best natural insect repellent, it repels mosquitoes and all most all insects, so to get rid of the insects use vicks vaporub on your neck, inner knees, elbows and behind your ears. For house flies, open the bottle of vicks vaporub it will protect your eating stuff from these flies. It is one of the most eco-friendly ways to keep the insect away.
Reduce Belly Fat: If properly used, Vicks Vaporub is also a good source to reduce the localized fat. It's not a miracle but it will surely help you reducing fat from the areas which are really harder to work with.
There are much more surprising uses of vicks vaporub that will blow your mind and if you also know the same, you can mention in the comments below. We would love to hear from y