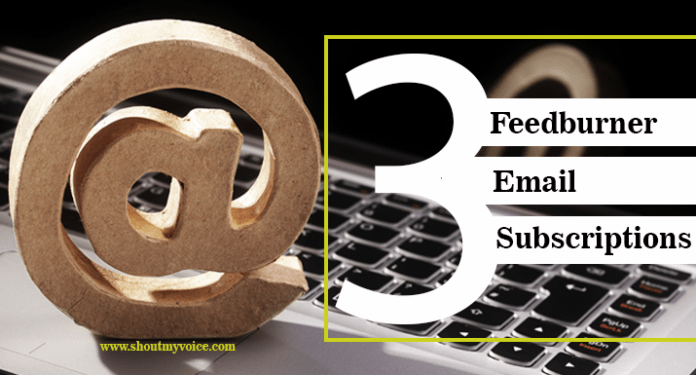 Every blogger wants his blog to be seen by his followers or fans first, whenever he posts a new blog. To get notify by the subscribers this process should be automated which will be convenient for the author as well as the reader. As automation of this process will reduce many tedious tasks of the author, there will be no need of sending mass emails to the subscribers.
So is there a solution to this problem? Can this process be automated?
The answer to this solution is yes, with the Feedburner service from Google one can create a feed of his website and have the readers subscribe to that feed, so from this the readers can easily find the new posts as they will get post by the author through RSS reader apps (RSS means rich site syndication, where one can get the feed of his blog content).

Thanks to the RSS Email subscription plugins for WordPress, as in this the author can easily put a form on the blog so that subscribers can get the newest posts straight to their inbox. Here we will describe and elaborate 3 free Feedburner subscription form plugins for WordPress:
1. Feedburner Email Subscription: The Feedburner email subscription is a very simple plugin as it can be used as a tool which can be put on the sidebar or footer. One can configure this tool easily by entering the feed address, editing the sidebar title and form elements. Not only this you can also customize the script and CSS. Its main features are no additional admin panel, twitter bootstrap3 support, template function, extensive widget options, custom input and button text, custom feed links and much more.
2. WP Subscribe: It is a powerful and yet so simple subscription plugin which supports MailChimp, Aweber, and Feedburner. It loads before you can even blink your eye, you just have to install the plugin, configure the widget and convert your visitors into loyal email subscribers. Its main features include – compatible with caching and SEO plugins, can be easily customized using custom CSS, options to change text showing in the subscription box, fully responsive, can be used more than once in different sidebars, super lightweight, eye-catching design and much more.
3. Elegant Subscription Popup: Elegant subscription popup is the best plugin who wants to play with animation as it is the most popular lead capturing WordPress plugin with 7000+ downloads that are very helpful to convert visitors to subscribers, it supports Feedburner and mailpoet. Its main features include- fully responsive (adjust itself with PC, tablet and mobile devices), cool animation effect on load and exit, can add logo image, clean and elegant look, easy to use admin panel. Not only this if you want to have more features then you should upgrade it to the pro license which includes delayed popup option, change popup text color, optimized for mailpoet newsletter, change popup background color, add another newsletter subscription instead of Feedburner such as mailpoet using the shortcode.
If you find this article relevant and useful then please don't forget to share it with your family and friends.