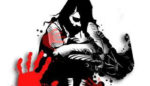 Motihari: A case of gang-rape came a few days back, which is taken as the Nirbhaya Kand of Bihar. The girl was gang-raped by five men in Motihari district. The victim also told that the gun and wooden sticks were put inside her private parts after which she collapsed. The accused left her naked on the road and ran away as they thought she was dead.
But a sharp turning point came when the doctor, Dr. Prashnat Kumar, civil surgeon of Motihari, tell the reporters after examination that there is no sign of rape according to the report. The doctor said that, this type of injury take minimum one week to 10 days to heal up. But when they examined victim, she was totally fine. She came to Sadar Hospital on her foot and told doctors about the pain in her stomach and her back and then they started examination and treatment. The girl is admitted to Sadar Hospital and she is absolutely fine.
The political leaders are playing politics on this issue. The investigation is going on to find out the truth. But the big question is that if the girl is not raped then why the girl and her family are telling lie. If they are right, when the victim will get justice. The bad politics is going on. It will take time to come up with the truth that who is lying the girl or the doctor.