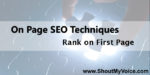 We all want to learn On Page SEO Techniques to Rank website on First Page
In today's world there are many people who have just started their blogs and most of them have designed website the first time, these people don't know about SEO, SEO is search engine optimization which we have to do make our website rank high in search engine pages, the higher the rank of the website in the search engine, higher will be the traffic on your site.
So it is must understand SEO, basically, SEO is of two types- on page SEO and OFF page SEO, Here we will describe you the on page SEO techniques which will definitely help you to rank high on search engines pages:
Page Titles:
The very important SEO factor or On Page SEO Techniques is page title. The page title of every page and posts of your website have a distinctive name and which contains the main keyword for that page.
For Example, If you have to share a blog "women bags" then you should include women bags in every page like "women bags design", "women bags prices" , you can see that we are using women bags on every page it is because it is the main keyword of your blog. Now you would understand that if someone searches for women bags then your blog may get searched easily with the main keyword included.
Meta Description:
Meta description is also a major SEO factor for your website. As most people forgot to use Meta descriptions, you should know that Meta description is basically a small description of your website which is the first targeting description to attract users to your website; it contains the main keywords as well.
A perfect description for the above example would be: Get the beautiful women bags with the best designs, beautiful colours and affordable prices at your doorstep. This description is short and simple and contains keywords as well as easily describing what we are selling.
Meta Tags:
The prime factor for SEO is Meta tags; Meta tags are simply a set of keywords for the pages of your website which are relevant to the content, that is which mainly focuses the content of the page.
URL Structure:
Uniform resource location, SEO friendly URLs are highly suggested as they are easily be crawled by the search engines.
The shorter the URL the better it will be performed in the SERP results, not only shortens URL, the URL should contain the exact keyword as well example- site.com/keyword will definitely give better results than site.com/344/456/subfolder/keyword.
Heading Tags (H1,H2,H3,H4):
While writing an article or a blog, you should be more careful about these body tags. The more you will use the heading tags the more will be the traffic on your website. Also, include keyword rich headlines as many crawlers used it to differentiate the prime content of the site.
Keyword Density:
The relevant keyword for your content is most important to include in the pages but overuse or repeating it many times may lead your site banned from search engines.
To overcome from this situation use your keyword density up to 2-5%.
We are happy to listen to you, leave your comments and queries below.