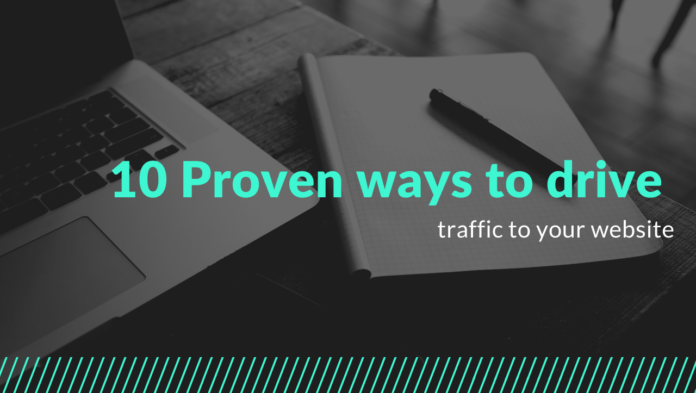 The problem with people today is that they have their own website and blog but they do not know how to drive real traffic to the website. We should have to know the right strategy to increase website traffic. Here are 10 Proven ways that will help you to get more customers
SEO ( Search Engine Optimization) 
The most promising way to drive organic traffic is through search engine optimization. If you do not know SEO then probably you are missing the right audience or conversions. This can be explained as – you want only traffic to your website or conversions? Most buyers first google the product's reviews and prices on other websites as well before buying it actually. So, Make sure your website should have good search engine optimization to get the right traffic.
Paid Ads
Obviously, we will go for this to attract visitors directly – Display advertising (Google Adverts), Social Media ads. Choose the right ad-media to drive more customers to your website. Each paid channel has its own advantages and disadvantages, so you should have to think carefully before proceeding further.
Content is King
It is clear from words, content quality should be extremely good in order to engage more customers to the website. The more engaging your content will be, more will be the traffic you will get on your website.
Quora
Quora is a great platform to increase traffic to your website. You only have to answer the questions with the right keyword in order to drive traffic to your website. Make sure you know what you are writing while answering the Questions.
Long-tail Keywords
If you are not using long-tail keywords then you are missing a large audience. Long-tail keywords are the most searched keywords on the web. Make sure you are using the right keywords in your SEO and paid ads.
Social Media
Yes, Social media platforms are a very good source of targeting the audience to your website. Youtube, Instagram, Twitter, and Facebook all these platforms have their own audience. Youtube is the second most popular search engine in the world while Instagram is famous for its photo-sharing and videos.
Guest Blogging
Guest blogging is not dead, yes it is true. Securing a guest blog post on a reputed blog will not only drive traffic but increase your brand awareness too. Or you can also invite others to guest blog on your website, this will bring new users to your website.
LinkedIn 
LinkedIn is not only a professional network platform but also is a great medium to gain traffic to your website. Publish high-quality content and anchor it with the right keyword to drive traffic to your website
Internal Linking
Linking internally is a great way to gain user experience, Internal linking also helps in On-page SEO. This will help you appear easily in search engine results. 
Responsiveness
Make sure your website is responsive on all devices. If you have a fast website loading speed then it will automatically gain more users and you will be able to drive more traffic and conversions to your website.