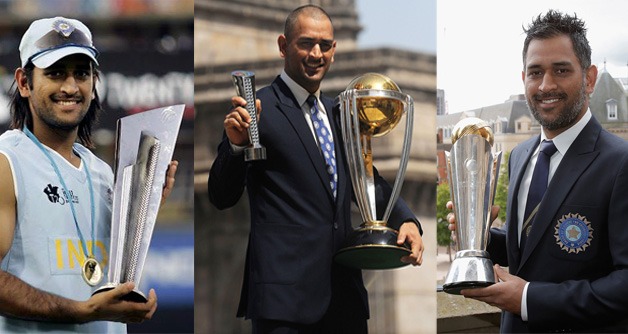 Mahendra Singh Dhoni is known as MS Dhoni born on 7th July 1981, is an Indian cricketer and has been captained the Indian team from 2007 to 2016 and in test cricket from 2008 to 2014. Dhoni had made a number of records during his captaincy; he led the team in 2007 and wins ODI series in Sri Lanka and New Zealand, won the Asia cup in 2010 and ICC cricket world cup in 2011. He is the only Indian captain to win all ICC trophies.
Early Years
Talking about his childhood, he was born at Ranchi, Jharkhand which is located in the east corner of India. He has completed his studies at DAV Jawahar Vidya Mandir and his main interests were football and badminton in sports. His father named Pan Singh, worked for MECON and his mother was a housewife, he has an elder brother who is a politician and a sister who is a teacher.
In his early career, he played for the commando cricket club for the first time in 1995 to 1998 and this was the first entry for him into a local cricket club. In the year 1997, his terrific performances in the Vinoo Mankad under-16 championship attracted the selector's eye.
Because of his hard work and improved batting performances led him to be selected to the Bihar Ranji trophy Squad for the season 1999-2000, he has made his debut against the Assam team by scoring 68 and this was an unbeatable score.
In 2003, he was selected to the Indian A team to play a tri-series tournament against Pakistan A team, in this series, MS Dhoni scored 362 runs at an average of 72.40 with back to back centuries against the Pakistan team.
Achievements of MS Dhoni
MS Dhoni has created milestones in his whole journey, after his captaincy in 2007 he was then appointed as the permanent captain of the Indian cricket team for the ODIs. The next year he became the captain of the test team as well.
Under his captaincy, India has made the highest test score of 726/9 against Sri Lanka in 2009. He has won the 2011 ICC cricket world cup and was the second Indian captain to achieve this after Kapil Dev. In 2008 January 17, MS Dhoni became the first Indian Wicket- keeper with five international dismissals in an innings against the Australian team.
He has made the highest second inning score of an ODI and broke Brian Lara's record of 153. In the 2014-2015 season, he declared his retirement from test cricket. His 224 is the highest score in a test as an Indian captain and broke Sachin Tendulkar record of 217. He is the most successful Indian test captain who has won 24 tests also, the third captain to won 100 ODIs after Ricky Ponting and Allan Border.
Social Life
MS Dhoni has a very beautiful social life, in the year 2010 Dhoni married Sakshi his childhood sweetheart. Sakshi was his classmate at DAV Jawahar Vidya Mandir, Shyamali and worked at the Taj Bengal as a trainee. Their families are close friends, Sakshi's family was from Dehradun Uttrakhand. In February 2015, he blessed with a baby girl named Ziva.