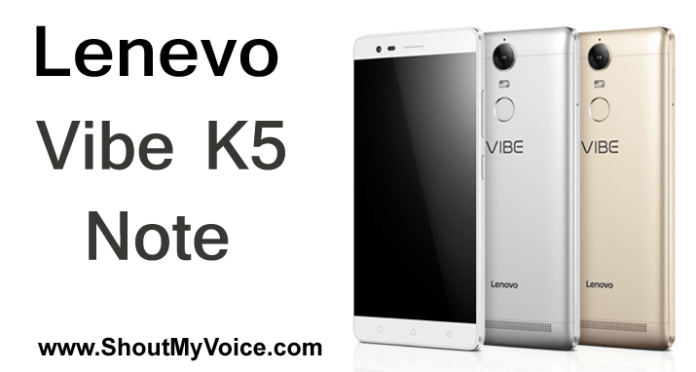 Lenovo is no doubt a famous brand and has launched terrific smartphones with affordable prices, one of them is Lenovo Vibe k5 note.
Lenovo became the first world's top personal computer maker in 2013. It is marketed as "The Le Phone" in mainland China and the "Idea Phone" overseas.
Lenovo is in the process of re-branding most of it phones using the Motorola brand name. Lenovo has assembled a team of senior managers familiar with the Indian market, launched mobile phones at all price points there, and worked on branding and marketing in order to build market share.
As of February 2014, Lenovo claims that its sales of smartphones in India have been increasing 100% per quarter while the market is only growing 15-20% over the same period. It has already started making smartphones and tablets in 2012.
Now if we talk about Lenovo k5 note brand we can see that it was launched in January- February month in 2016. The phone is having spectacular features like 5.50- inch touchscreen display with a resolution of 1080 pixels by 1920 pixels. It has 1.85 GHz octa-core media talk helio P10 processor with 2GB and 3GB of RAM. It is available in three beautiful different colors: gray, white and gold.
The Lenovo Vibe k5 note is powered with 16GB and 32 GB of internal storage and can be expandable up to 128GB through micro SD card. Talking about the camera, it is having 13-megapixel primary cameras with flash and 8-megapixel secondary camera which can be used for taking selfies. It has android version 6.0 and having a long lasting battery backup which is 3500mAh, non-removable, measures 152.00 in height, 75.70 in width, 8.49 in thickness and weighs 152.00 grams.
Lenovo Vibe k5 note is featured with dual SIM functionality (GSM and GSM) which should be nano size SIM. Also, it supports various connectivities like Wi-Fi , GPS, Bluetooth-v4.10, NFC, FM, 3G/4G. Sensors include a proximity sensor, ambient light sensor, accelerometer and gyroscope, It has a resolution of 1080*1920 pixels and supports 802.11a/b/g/n/ac in Wi-Fi and 3.5 mm of earphones.
Talking about user reviews, customers have given 4 stars rating out of 5 stars which are very good in terms of rating. We also know that price differs on different websites; we will provide you with the whole details of the product description and price details on famous e-commerce websites below:
• eBay: Price for Lenovo Vibe k5 note grey (32 GB) is Rs.15,000 visit: goo.gl/s4p9KD
• Flipkart: Price for Lenovo Vibe k5 note gold (32 GB) is Rs.13,499 visit: http://goo.gl/sQbWmy and goo.gl/pwXbpe for silver. Also, you can buy it from EMI of just Rs.655 per month which is affordable for those who have a low budget.
• Amazon: Price for Lenovo Vibe k5 note silver, gray and gold (16 GB) is Rs.6,999 visit: goo.gl/NDe7aH.
If you have any queries regarding the Lenovo phones or any other phone then please don't hesitate to share with us. You can mention comments below.