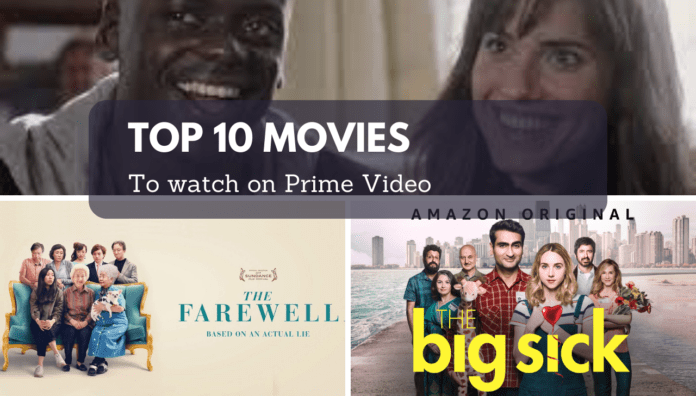 Amazon Prime Video offers a vast library of movies from various genres, making it a go-to platform for movie enthusiasts. Whether you're in the mood for action, romance, comedy, or a thought-provoking drama, Prime Video has something for everyone. To help you navigate this cinematic treasure trove, here are the top 10 movies to watch on Prime Video:
The Big Sick (2017)
Directed by Michael Showalter, "The Big Sick" is a heartwarming and hilarious romantic comedy based on the real-life love story of comedian Kumail Nanjiani and his wife Emily V. Gordon. It explores cultural differences and the complexities of modern relationships with charm and wit.
Get Out (2017)
Jordan Peele's "Get Out" is a groundbreaking horror-thriller that tackles racism in America. With a unique blend of suspense and social commentary, this film will keep you on the edge of your seat while sparking thought-provoking discussions.
The Farewell (2019)
Lulu Wang's "The Farewell" is a poignant and beautifully crafted dramedy that explores family dynamics, cultural identity, and the power of love. Awkwafina delivers a stellar performance in this touching film.
A Quiet Place (2018)
Directed by and starring John Krasinski, "A Quiet Place" is a gripping post-apocalyptic horror film where silence is survival. The film's innovative concept and intense suspense make it a must-watch for thriller enthusiasts.
Manchester by the Sea (2016)
Kenneth Lonergan's "Manchester by the Sea" is a heart-wrenching drama that delves into grief, forgiveness, and the human spirit. Casey Affleck's emotionally charged performance earned him an Academy Award.
The Marvelous Mrs. Maisel (2017-2021)
While not a movie, this Amazon Prime Original series is a must-mention. Created by Amy Sherman-Palladino, it's a witty and visually stunning comedy-drama set in the 1950s New York comedy scene, following the journey of a housewife turned stand-up comedian.
The Handmaiden (2016)
Directed by Park Chan-wook, "The Handmaiden" is a visually sumptuous and erotically charged thriller. This South Korean film explores deceit, desire, and power dynamics in a mesmerizing way.
The Report (2019)
If you're interested in political dramas, "The Report" starring Adam Driver is a gripping tale of government accountability. It delves into the investigation of the CIA's use of torture after 9/11 and the struggle for transparency.
Lady Bird (2017)
Greta Gerwig's "Lady Bird" is a coming-of-age masterpiece. This film offers an authentic and relatable portrayal of a young woman's journey through high school and the complexities of her relationship with her mother.
The Grand Budapest Hotel (2014)
Wes Anderson's whimsical and visually stunning film, "The Grand Budapest Hotel," is a delightful and quirky comedy-adventure set in a fictional European hotel. Its unique storytelling style and impeccable production design make it a must-see.
These ten movies represent just a fraction of the incredible content available on Amazon Prime Video. Whether you're in the mood for laughter, tears, or suspense, you're sure to find something that captivates your imagination on this streaming platform. So grab your popcorn and start streaming these top-notch films today!