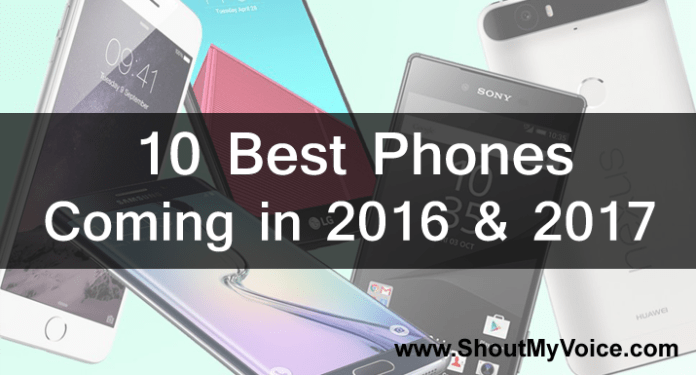 Here we are going to describe the latest phones coming in 2016-2017
When it comes to technology in latest phones the calendar can be predictable. Here we will provide you the details of the most exciting upcoming phones in 2016 and 2017. This year many phones will launch which have the best features by far.
Apple Iphone7: Here is good news for iPhone lovers as apple is looking for its next version. The latest phones version is iPhone 6s which is already booming in the market.
The price of iPhone 7 in India is approx. Rs.60,000 and US$ 649. It will be much slimmer with IOS 10 and with waterproof technology.
There will be a reversible charger and no sim card will be there, that is it will have an e-sim traditional sim card.
HTC Nexus 'Sailfish':

HTC is already booming with its previous versions and now it will launch HTC Nexus 'Sailfish' having various specifications like 4 GB of RAM, 32GB storage, 12mp camera, rear fingerprint scanner and 2770 mAh battery.

One Plus4: One plus3 has is coming with the latest phones category with very powerful features, one of its camera quality and performance.
Now it is launching one plus4 with many efficient features than the previous version, having features like 21-megapixel camera back and 12 megapixel front with snapdragon 830 processor.
Microsoft Surface Phone:

Microsoft have launched Lumia series and after its successful launch, Microsoft is now going to launch its Surface phone which will be a boom with its high-quality features like Gorilla glass 4, 8GB of RAM and 64 or 128GB of internal memory.

Samsung Galaxy X (Foldable Phone):

As the name says it will be a foldable phone and it will be launch within a year. It will have features like Iris scanner, 6GB of RAM, 256 GB internal storage with water and dust resistance.

Nokia C1:

Nokia will be back in the mobile industry within a year with its new launch Nokia C1 having features like 32GB internal storage, 25-megapixel camera, 4G support, snapdragon 820 processor and 4GB of RAM.

Xiaomi Mi 6:

Xiaomi has already a huge fan following with its mind blowing features and which can be affordable as well. Its next launch is Xiaomi 6 with features like 21-megapixel camera, 4200mah battery, 5G support, 6GB of RAM and Qualcomm snapdragon 830.

Le Max 2 Pro Extreme: LeEco is a very big company and is well known and popular in India, now launching its next phone within a year with features like 128 GB of internal storage, 8GB of RAM and 6-inch QHD display.
LG G flex 3:

LG G flex I knew for its bent body and is now coming with its new version having features like a fingerprint scanner, 3500mah battery, 128 GB of internal storage and 6GB of powerful RAM.

Samsung Galaxy S7 Edge (Plus): Last but not the least, Samsung galaxy S7 edge plus will be coming in a few months with a bang like low-cost  and high-quality features.
It's safe to say that the Samsung Galaxy S7 edge is the more attractive, but Samsung's new phone Samsung Galaxy S7 Edge (Plus) easily draws attention from afar.
Large part of this is due to its dual-curved 'edge' display at the front – it not only looks fancy, but also gives the impression of having no side bezels due to the way the glass edge wraps around the sides. The glass-on-metal construction further contributes to the device's sci-fi look.

Stay with us if you want to know more about gadgets and if you have any queries please mention it below.