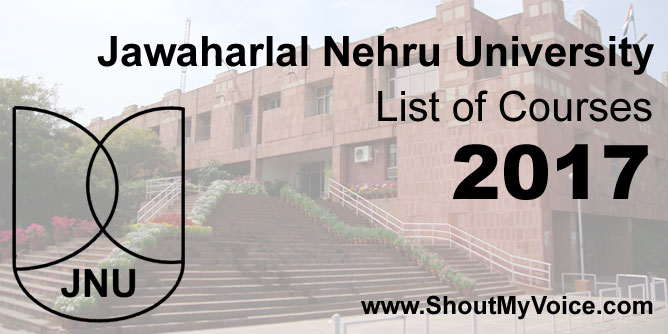 JNU Courses 2017 – Jawaharlal Nehru University offers 34 postgraduate courses in 14 different schools running within the university. JNU 2017 courses are the list of postgraduate programmes in Arts & Science disciplines. The admissions into JNU courses 2017 are generally offered through Jawaharlal Nehru University Entrance Examination (JNUEE). Courses of JNU include M.Phil programmes and integrated PhD besides M.Tech, MA and M.Sc programmes.
According to the JNU admission prospectus 2017-18, there are as many as 69 fields of study for which the central university will be conducting entrance examinations on respective dates. JNU courses 2017 courses as enlisted below will help candidates in clarifying any doubts regarding the number of programmes/ courses in JNU along with their respective intakes. Candidates can check here the list of JNU courses 2017 before applying for JNUEE (JNU CEE) 2017-18 to get an overview of the courses (postgraduate programmes), their fields of study and the programme disciplines offered in them.
LATEST – JNU Application Form 2017 is available now
The Central University shall be conducting JNU entrance exam for admissions to JNU Courses for the session 2017-18 between May 17 and 19 for which the applications can be filled till April 5, 2017. Check here for other important dates of JNU 2017.
Jawaharlal Nehru University shall be admitting candidates for a number of postgraduate programmes in different schools through JNU Entrance Examination 2017-18.
JNU Courses 2017 – Check the list below for the postgraduate law programmes–
S.No.

Programme schools in JNU

JNU Courses

Seats*

1.
School of International Studies
M.A. in Politics (with specialisation in International Studies)
92
1a.
M.A. in Economics (with Specialisation in World Economy)
31
2.
School of Language, Literature and Culture Studies
M.A. in Arabic, Chinese, French, German, Japanese, Hindi, Korean, Linguistics, Persian, Russian, Spanish and Urdu
212#
3.
School of Social Sciences
M.A. in Economic, Geography, History, Political Science, Sociology, Philosophy and Development & Labour Studies
434#
4.
School of Life Sciences
M.Sc in Life Sciences
38
5.
School of Environmental Sciences
M.Sc in Environmental Sciences
31
6.
School of Computer and System Sciences
MCA (Masters in Computer Applications)
46
7.
School of Physical Sciences
M.Sc in Physics
31
8.
School of Computational and Integrative Sciences
Integrated M.Sc-Ph.D
18
9.
School of Arts and Aesthetics
M.A. in Arts and Aesthetics
23
10.
Centre for Sanskrit Studies
M.A. in Sanskrit
33
11.
Centre for Molecular Medicine
Integrated M.Sc-Ph.D
5
12.
School of Biotechnology
M.Sc in Biotechnology
31

12 Schools

34 Courses

1025 Seats
*Subjected to change
#Cumulative number of seats
JNU Entrance Examination (JNUEE) is conducted by Jawaharlal Nehru University (JNU) for admissions to as many as 1025 seats in 34 postgraduate programmes.
We have provided you with the website links of the colleges where you can get more information about the colleges and their related courses.
For further queries, you can visit the official site of Jawaharlal Nehru University: http://www.jnu.ac.in/.