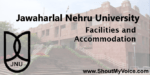 Jawaharlal Nehru University Facility and Fees for accommodation
JNU provides various facilities to the students that we will describe you in this article.
Hostels
You can find the Top 10 Colleges affiliated from JNU who provides a world class facility for their Students
JNU University provides hostel system to the students which include 18 hostels for boys and girls and one complex for those students who are married; these hostels are well furnished and have large space in them. Not only this, the hostel provides healthy food, television, indoor games, health club etc. Each hostel is allotted with wardens and a member who administrates the hostel.
Every student can't get the hostel facility; the accommodation will be only for eligible students and on the basis of availability.
All the selected students who want the hostel facility will be required to apply the application form from the Dy. Registrar (Inter hall administration) office of the Dean of students from July 15th onwards. Also the admission in the hostel will be according to the merit, the students have secured in the entrance examination which has been held by the University for the Specific Programmes to study.
Approximately 22.5% (15% for SC students and 7.5% for ST students) and 3% of the seats in the hostel are booked for the SC/ST and physically handicapped students respectively. All the SC (male and female) students except those who are residing in Delhi will get the hostel facility. All the SC/ST/PH students are free from the hostel rent. Please note that this facility is only for those students whose parents/guardians income is under Rs.75000 per annum.
Hostel Charges:
| | |
| --- | --- |
| Category | Charges |
| Current hostel charges | Rs.1620/- |
| Single seated (for two semesters) | Rs.240/- |
| Double  seated (for two semesters) | Rs.120/- |
| Single seated ( for MCM scholarship students) | Rs.180/- |
| Double seated ( for MCM scholarship students) | Rs.90/- |
| Establishment Charges ( for MCM scholarship students) | Rs.400/- |
Advance fees of mess will be payable by the students in the hostel at the time of admission and the actual mess charges will have to paid on the 24th of the following month. The students have to join the mess as the mess provides healthy food. Students staying in hostel have to obey the rules decided by the university, failure to observe discipline or any rules may result in the withdrawal of the hostel facilities. If the information or any other documents provided by the student found to be incorrect, then the university deem has the full rights to take strict action against the student or may eviction from the hostel.
Here are some of the hostels name and its capacity:
| | |
| --- | --- |
| Name of the Hostel | Capacity |
| Brahmaputra (Boys) | 386 |
| Chandrabhaga (Boys and Girls) | 204 |
| Ganga (Girls) | 342 |
| Godavari (Girls) | 344 |
| Jhelum (Boys) | 307 |
| Kaveri (Boys) | 343 |
| Koyna (Girls) | 544 |
| Lohit (Boys and Girls) | 303 |
| Mahi/Mandavi (Boys) | 349 |
| Mahanadi (Married Students) | 86 |
| Narmada (Boys) | 208 |
| Periyar (Boys) | 359 |
| Sabarmati (Boys and Girls) | 263 |
| Shipra (Girls) | 544 |
| Sutlej (Boys) | 341 |
| Tapti (Boys and Girls) | 386 |
| Yamuna (Working Women) | 191 |
For more Information regarding the hostel details of Jawaharlal Nehru University you can visit the site http://www.jnu.ac.in/facilities/hostels.asp, also you can visit the official site www.jnu.ac.in