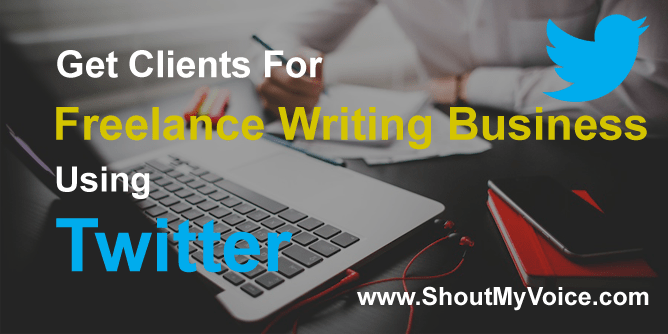 Do you want to get more clients for freelance writing work? Here are some tips for you to get good clients for freelance writing work using Twitter.
Twitter is a very big social media site where you can easily reach the targeted audience of your niche. In twitter, you can share your ideas or views with a large number of people and you wouldn't believe how much you can earn for your business from Twitter. Especially for the writers who are new in blogging can start marketing on Twitter, it is a very popular platform so you can easily promote your business here.
Now the question arising in your mind is how to get clients for freelance writing work from Twitter?
The very first step you should follow is to follow your niche; whatever your business is about you should target the people of your niche so that they will also take interest in you. This will automatically help you to make leads and you will easily get clients. For this, you have to click on the search tab and enter your niche, after entering you can see options above, where you have to select accounts.
Here you can easily find the prospective clients also, you can find people through manage flitter as well as it is very easy you just have to click on refine wherein you can fill your niche keyword and the data you will get will be filtered. Not only this, it has some advanced options as well like you can search profile page, the number of followers profile has and how much they tweet. Another thing you have to note is you can only follow 50 accounts per day with the free version of manage flitter.
The second step is to tweet about your niche, the more you will tweet about your niche more you will get the followers. They will really take interest in your tweets but you should act like you are really interested in their niche, another thing you should be careful on is to use hashtags of your niche.
The third step you should follow is to stalk the clients online, the best way to get the clients is to not to tweet them directly. It is because the tweet is not going directly to the hiring department and also it will be negative impact, so it is better to go to their website and then go to the about us page wherein you will see the higher authority people, you can now get their email ids which will be very beneficial for you to pitch about your niche. After getting the prospects contact information you can create different templates according to the clients need.
Surely these pitches will provide you better response rates if you follow them regularly; another important tip is to try to engage with the client on twitter first before actually pitching about your niche. Lastly, the most important tip is if you are good in fixing or answer people's problem of your niche then that will create a huge engagement on your profile.